Events
To be UPDATED SOON...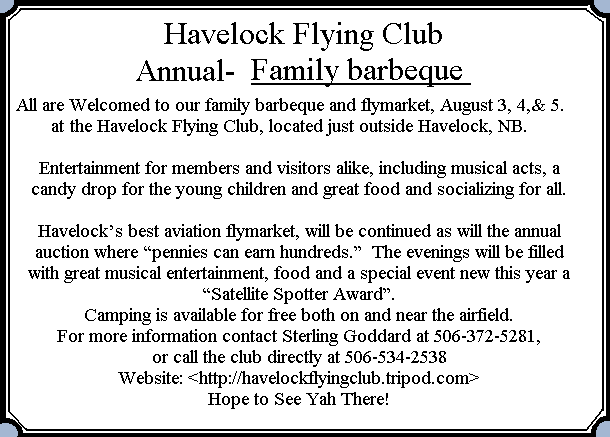 The Cake Judging Contest will be held On Sat. afternoon as will the Annual action,
If your hoping to win a prize try our Water ballon toss
a cool refreshing Game That requires Skill or possibly a towel.
Fun Prize to be Won.
we're planning on a Good time, Come join us.
See You There...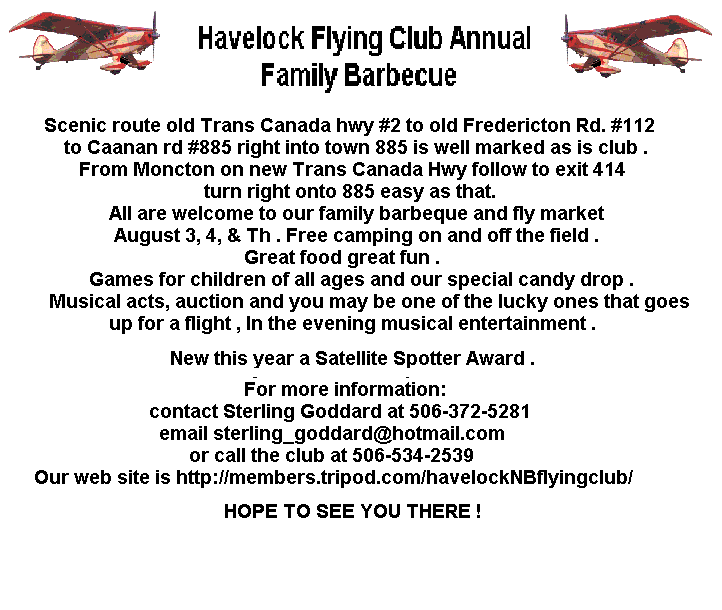 2000 Fly-in was a success and all had a great time
some of the pilots took passengers up for flights and the Moncton Flight College was there also.
Tickets were given at the gates for free rides and many a went up for their first flights 99% came back with a big smile on their face.
I am proud to say one of our guests was so impressed by the experience that he started taking flying lessons. The pilots enjoyed showing off their skills and their planes .
The antique automobile association was on hand with a good many vehicles for us to enjoy many of us remembered when......
The St. John Ambulance was there Royce Alward and Florence Goddard.
Around 3pm Mr. Allan Sharpe from Transport Canada gave a very interesting seminar on Owner-Maintenance.
While Mr. Sharp was giving his seminar he had some fierce competition for his audience, An Executive Twin Otter landed at our 2900 ft. grass strip.
Well needless to say there was a mass exodos out of that hanger and we got as close to the roped runway as we dared.
The Pilot Explained he was just flying around saw all the airplanes and decided to drop-in. Well it was the icing on the cake to a perfect day.
So as you can imagine, it took several minutes for most of the pilots to gather their composure actually, some of them didnít and forgot all about the seminar .
Mr. Sharp being a fellow Aviator understood exactly what had happened,
Once again thank-you Mr. Sharp for your support, patience, and very informative presentation.
The children were busy with Susan Goodard she had them doing tole painting, and the candy drop made their day. Later in the afternoon the pilots enjoyed themselves with flour bombings, spot landings etc . Bingo was held in one of the hangars and was a hit some mighty fine prizes were won.
Supper was started at 6:00 P.M. we had a great steak dinner barbecued on the grill to our fancy. with all the trimmings.
After supper one our local veterans Mr. Charlie McEwen and our local president Mr. Delbert Alward shared with us some of their aviation experiences.
They talked about how Aviation has evolved from very humble beginnings to the high standards it requires today.
Did you know some landing strips were built very close to the main airports for emergency landings.
Other stories included the mail run from Prince Edward Island to New Brunswick. Mr. McEwen told us how one of his companies made Drones for the National Defense. How they were flown and launched.
It was realy interesting.
Sathurday drew to a close and what a way to wind down but with roaring bond fire marshmallows and live music by the Whyte River Band some danced on the patio some in the field , others sat and listened and watched the satelites go by all around it was a wonderful day .
Sunday morning breakfast was tasty as always.
The pilots were busy in compititon Joseph Bergeron pilot and Tom Harrison his co-pilot happily took first prize for flour bombing and for touch and go's they not only went home with throphy's but with fun memories .
Florence Goodard won first prize for her very tasty upsidedown blueberry cake . As the winner of the silent auction and I can tell you it was worth every penny .
Later in the day we had a very competitive Down East Auction and that's when the real sport started up as the items for bid were really impressive there was everything there from cases of aircraft oil to trip to Halifax N.S. by VIA rail. While many prizes were donated by the local business community some of the ladies of the club went the distance one lady knit a very warm afghan, and one lady knit a beautiful winter pull-over sweater that every pilot there wanted .
Of course local competition from the pilots lounge did inflate the prices all in good fun. I'm happy to say that Florence Goddard won the bidding on the trip to Halifax and used it as a anniversay gift to her husband Sterling I understand they had a wondeful time .
Well all good things come to an end and as I watched some of the planes leave to go home I was proud of our little club and the progress it has achieved .
From all the members of the Havelock flying Club thank you to all of the wonderful volunteers , Wayne Perry our air control officer, The St. John Ambulance attendants Royce Alward and Florence Goddard, The Air Cadet squadron from Petitcodiac all of your contributions are greatly appreciated. See you next year.


2001: The Moncton Flight College was there to bring people up for flights which is always a big plus . Door prize tickets were distributed and many prizes were won. The St. John Ambulance attandants were present and as always made us feel safe . Royce Alward has has become a fixture at our fly_in and a very welcome one . He and his co-workers Donna Berry and her daughter Sue Smith kept a close vigil due to the high temperatures on the weekend . In the afternoon the pilots enjoyed themselves due the high temperature fewer pilots engaged in the sporting activities . The Bingo games were great fun and the hangar provided welcome relief from the sun. The candy toss from the plane was sabotaged by the wind and most of the candy ended up in the trees upon hearing this the pilot ran for the club house to distribute candies to the young ones. Tickets were sold over the weekend on a childrens peddal pitts special aircraft which was drawn on Sunday the winners were Yvonne and Weldon Furlotte . A big surprise was the WINGS OVER CANADA plane a Found Bush Hawk with a 300 hp lycoming engine mounted on wipline 3450 amphib floats that camped over for the weekend . The pilot John Lovelace took some tapings of the club but sorry to say I personaly did not see or hear anything mentioned on the show . Which is a favorite show of ours . The antique automobiles were lined up for inspection and my favorite a bright yellow 1957 Chevy owners Mike and Betty MacQuarrie drove it in from Sussex N.B. I would of happily driven it to my home . Shirley Harrison manned the flea market tables and when not busy she knitted small airplanes . They were a big hit and one is hanging from my car mirror . There were some tasty looking cakes on display for the silent cake auction. Memo learn to say no to sweets . First prize in the cake baking contest went to a very nice lady who didn't want any credit for her hard work . The barbecued steak supper was excellent and my hat off to the cooks . The wind was nasty but they never faultered and those steaks were terrific. The Whyte River Band out did themselves and hardly a person was sitting by the bond fire as they were busy dancing to the music which was great at around 12:30 or so people started heading for their sleeping quarters everyone was ready for a good nights sleep after a hot busy day . There seems to be an increase in campers yearly which is wonderful to see . Sunday morning breakfast was great as always and the weather was more cooperative pilots didn't waste time and before long all you could hear was the drone of airplanes . The auction went very well once again they had great things to bid on from Harley Davidson T-shirts to camping lanterns way too much to list . Thanks to all the volunteers your contribution was greatly appreciated .. Hope to see you all at the next Fly-In .